How do I get to where I want to be (starting from Lisbon and going via Frankfurt)? by Paul Stokes
Details

Created on Thursday, 18 July 2013 16:07
Published on Thursday, 18 July 2013 16:07
Written by Paul Stokes

In my previous blog I talked about how much of the business of the 4C project is carried out virtually. Well recently we had a rare face to face meeting with most of the partners gathered around a large table for one day (which turned into two days because of the associated side meetings) of intense activity in Frankfurt. Don't worry. I'm not going to publish a blow by blow account of what went on there; partly because it hasn't been fully written up yet, and, more importantly, because there just isn't space (the action list on its own came out as four pages long) and most readers haven't got the time or the patience to digest it even if there was space). Instead, I'm going to pick out a few themes.
The main purpose of the meeting was (to quote the abstract from the agenda) "To review progress made on the project; to address any problems or challenges that have arisen; to get reach a shared understanding about the work that needs doing; to discuss and agree changes that we may need to introduce into the workplan". In my mind this translated as "What have we done right, what can we do better, and what do we do next that we may not have thought of before?"
The "what have we done right?" bit was, in the end, easy to encapsulate. We've been communicating… …big time. We're not stand offish. If you're interested in digital curation (and in particular the costs associated with digital curation) we want to talk to you1 (and in many case we already have). As has been mentioned many times before on this web site, in particular by Sarah Norris, and elsewhere, Communication is key. Sarah was also the driving force behind the first official deliverable of the project, the superlative D2.5 - Project Communications Plan
We've also been liberally sharing information internally allowing Alex Thirifays to produce the truly magnificent MS7 - Information Dependency Profile and MS7 - Information Dependency Profile - Annex upon which we, who are involved with the day to day running of the project, gaze with awe.
As far as the "do better" aspect was concerned we decided that we should be consistent with our messages (which, to be fair, was an attribute of the project that we had intended to clarify at this stage all along), we should invite the community in more to help us encapsulate our thinking (rather than be passive recipients of our words of wisdom) and we should use our management tools in a "smarter" way; better use of lists, collection of information at the appropriate level of detail, archiving, and so on.
On the "do next" front, it wasn't quite "Keep Calm and Carry On". We had a lot to talk about including the project glossary, methods and targets for gathering costs data, the nature of various outputs (in particular the Curation Costs Exchange—known by the team as "the CCEx"—and Indirect Economic Determinants—IEDs). These will form the subjects of other blogs in the not too distant future so I won't go into detail here.
There was, however, one aspect of the discussions we had that is in the forefront of my consciousness, particularly because it's on my personal list of things to deliver, namely the Roadmap (deliverables D5.1 and 5.2).
Our definitive resource for all things to do with the 4C project is the official Description of Work (DoW). In the DoW there is a whole work package section dedicated to the production of the road map (WP5) which is headed by a brief description of the objectives of the road map. The objectives can (I believe) be encapsulated in the first and last sentences of that objective.
"The purpose of this activity is to arrive at coherent and evidence-based recommendations for future action and strategy in relation to the economic aspects of digital curation."
and
"A substantial amount of effort is dedicated to the Roadmap and early buy-in for its content, aims and objectives is crucial."
So this got me thinking of the whole nature of roadmaps in general and what it is to be coherent in this context. When you think of a road map people generally bring to mind something on the lines of Google maps or large format books kept in the boot of the car for the odd occasion when the Satellite Navigator isn't working (or is telling you lies). Something like this: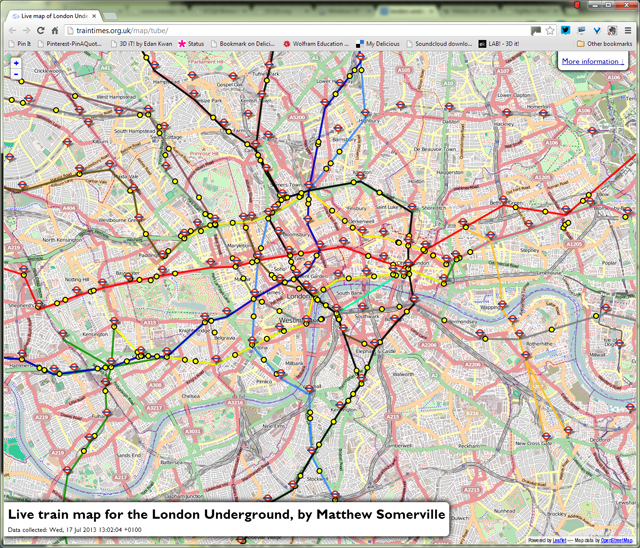 You can use this type of map to work out where you want to go… …eventually. It contains a lot of information, but in the context of say a journey along the Piccadilly line in London, most of that related information is at best unnecessary and at worst a distraction, hiding the information I need to know in order to achieve my objective. It's interesting, possibly relevant to a degree, but I don't need to know it to get from A to B.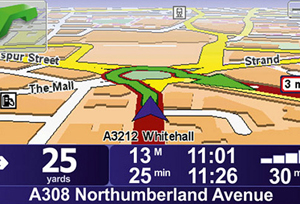 A Satellite Navigator style map might be a better analogy for the type of "Roadmap" we want to achieve. There's a lot less associated information and that which is shown is directly applicable to the achievement of our A to B objective including how long it will take to get there. However, it doesn't give us a clear idea of where the final objective is; there's no immediately apparent overview of the journey (and of course there always the dreaded occasional Sat Nav screw-up when the algorithm gets it wrong and you're, quite literally, led up the garden path).

What I'd like to develop for the project is something along the lines of this type of strip map; something that shows where we're starting from, where we want to go, the waypoints in between and not much else. Surrounding landscape, pretty though it might be, is not immediately useful for a traveller … …as long as they're already on the right path (and I hope that we are already on the right path).
If you look closely you'll see that the information for getting from A to B on the Piccadilly line in the strip map alongside is also on the first map above, there's just less surrounding clutter.
So, if we adopt the strip map approach, will it achieve the desired objective? Is this strip map approach relevant, sufficient, and coherent? Are we well enough established on the path to render the surrounding features and information less relevant? Or should our ultimate road map be more on the lines of John Ogilby's original British road map published in 1675; a start, a finish, way-points and things to look out for on the way?
Answers in the comments below please.
---
1 This would be a good place to mention that we're running a workshop and focus group at iPRES 2013 in Lisbon in September. Do join us! - http://ipres2013.ist.utl.pt/